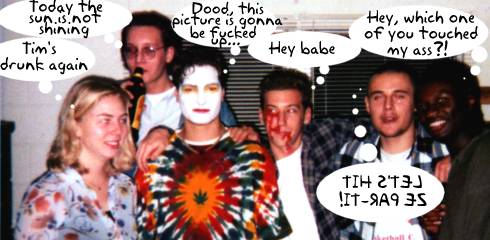 Pre Halloween-Dance hangout
(Thought bubbles added for the ESP-impaired)
I'm the one w/ the fake blood ... damn I hope it's fake...
A few seconds later, tipsy camera operator (note odd photo angle)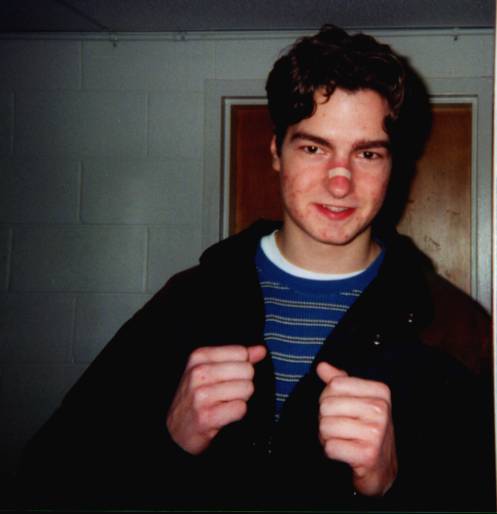 "It's not a zit, dood I kick your ass!"
Everybody laugh at Toni's huge, poorly-hidden monster pimple!
Whiteboard Defacement Crew (aka KRISTOFF) has returned!!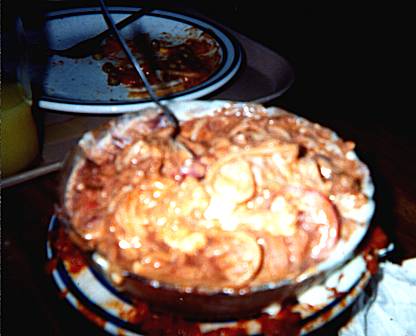 Yummy "*.*" concoction of pretty much every quasi-edible substance in the dining hall. (You'll see why I have this here in a sec.) Includes...
Chili
Bleu Cheese salad dressing
Spaghetti
Mountain Dew
Cheese
Tomato
Hawaiian Punch
Pizza
Chocolate
Ketchup
Whip Cream
Pickes
Salt
And much, much more!
Told ya you wouldn't be disappointed. Here's Nash eating a heaping scoop of the stuff for $7. Hmm... $7 to see Nash almost blow chunks at the table? Call it a dare!
P-A-A-A-A-R-R-R-R-R-R-R-T-Y!!!