Customize!
You don't have to live just like everybody else!
Current goodies on the Customize! page:
Create your own Windows tips
Changing mouse pointers (getting our free golden pointers)
You remember the Windows Tip screens, right? No? Those are those things that would pop up everytime you started Windows, until you got sick of them and turned them off. There is a way to edit those tips to say anything you want using Registry Editor.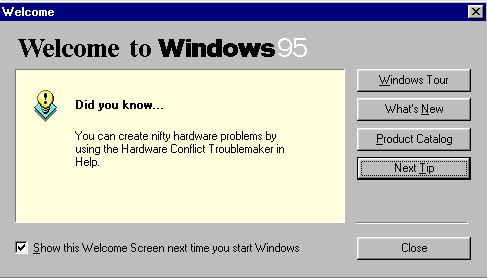 Step-by-step instructions are as follows:
The Registry is a very important part of your Windows system. Before doing anything else, make a backup of the Registry (system.dat and user.dat) in case you should catastrophically screw up (or want your original Windows tips back...)
Run Regedit--select Start/Run, and type regedit in the box. (And hit enter, duh)
Find the tips--click HKEY_LOCAL_MACHINE on the left side and work your way down to Software/Microsoft/Windows/CurrentVersion/Explorer/Tips
If you're in the right place you'll see a list of tips on the right. Double-click the icons to bring up the edit-box and change them (48 tips in all) to your heart's content.
When done, close Regedit.
Your new tips aren't much fun if they never show up. To re-activate the Welcome screen for Windows 95: select Start/Run, type welcome in the Open box, and when the Welcome screen appears checkmark the "Show this screen next time you start Windows" box.

Fast fact: Because of a minor bug in Windows 95, one of the tips appears twice in a row. Cool, huh?

Now available: A registry patch that will automatically replace the standard tips with our very own amusing collection.




---



Let's face it, the standard mouse pointers that Windows pre-loads for you are pretty dull. Sure, you can always select those 3D mouse pointers, but you're still left with a boring gray arrow. Since we're so nice, we've gone ahead and created the Golden Cursor Collection, and made it available for immediate download. We'll even give the newbies out there step-by-step instructions for changing these pointers.

Golden Cursor Collection installation instructions:

1. Unzip to c:\windows\cursors
2. Click Start->Settings->Control panel->Mouse : click the tab marked Pointers
3. Replace the boring standard-issue cursors by selecting each and hitting Browse, then selecting the appropriate cursor.
4. If you want, save it under a different Scheme, that way you can easily switch back to Windows defaults if by some wierd force you decide you liked the old ones better ;)