LSP-Fix
Repairs Winsock 2 settings, caused by buggy or improperly-removed Internet software, that result in loss of Internet access
LSP-Fix is a free Windows utility to repair a loss of Internet access associated with certain types of software. This type of software, known as a Layered Service Provider or LSP, typically handles low-level Internet-related tasks, and data is passed through a chain of these programs on its way to and from the Internet. However, due to bugs in the LSP software or deletion of the software, this chain can get broken, causing the Internet connection to become inaccessible.
Unfortunately, problematic LSP software, including malware/spyware, is sometimes quietly installed by unrelated products such as file-sharing programs, sneaking onto a system unannounced. In fact, in many cases, the user does not know of its existence until something goes wrong, and he/she can no longer access Web sites. Historically, New.net* (NEWDOTNET) and WebHancer* (often bundled with file-sharing utilities, DVD player software, and other free downloads) have been the worst offenders, but the problem can be caused by any improperly-written Layered Service Provider software, or the deletion of any LSP program's files. LSP-Fix repairs the LSP chain by removing the entries left behind when LSP software is removed by hand (or when errors in the software itself break the LSP chain), and removing any gaps in the chain.
LSP-Fix is not a malware removal utility and does not target specific products. LSP-Fix does not delete any files.
Downloads: (All downloads will fit easily on a floppy disk.)
LSP-Fix (.zip) v1.1 - includes the program, documentation and source code.

If you are using the program on a machine that cannot open .zip files, or are downloading for a friend whom you're not sure can read .zip files, download the uncompressed files below instead. It will take a bit longer, but this way the program can be used as-is (e.g. from a floppy disk).
LSPFix.exe
lspfix.txt
New in this version:
LSP chains entirely verified on program start, and status (errors / no errors) now displayed on the program main window.
If Winsock2 registry keys are inaccessible, LSP-Fix now warns the user to log in as Administrator and retry, rather than reporting the key as missing.
Released under the GNU General Public License.
Please refer to the Readme for a complete list of changes.

Screen Shot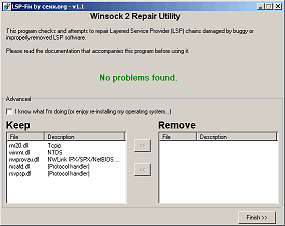 Third Party Winsock Repair Tools

Following is a list of additional LSP/Winsock repair utilities written by others. These are provided for convenience, and are not written or tech-supported by cexx.org. Please direct support inquiries at the original authors! Thanks.
http://www.bu.edu/pcsc/internetaccess/winsock2fix.html - Winsock repair utility designed for Windows 98, 98SE, and ME.
http://www.iup.edu/house/resnet/WinsockXPFix.exe - Winsock repair utility designed for Windows XP.
http://digital-solutions.co.uk/lavasoft/whndnfix.zip - Winsock repair utility for Windows 95/98/98SE/ME.

---

*All trademarks are the property of their respective owners.