You're currently in the Snicker Dead Pages Graveyard. Go here to return to the Graveyard or here to go to the main page.
MAC bashing
Lose95
Your Jokes
Newsroom
Snicker
the lighter side of computing

Random Windows Tip of the Moment

Welcome to Snicker! This site is kinda new, so you'll have to bear with us while we fill in all the goodies. Snicker is the site for Mac haters, funny boners, Window$ 95 users, and the occasional dork who doesn't even know how they got here. (That makes just about everybody!)

As you can see, this page ain't that funny. It will make you laugh. It will make you laugh until you puke! Then you'll squeegee off the monitor and do it some more!

If anybody is wondering, 'Who the hell runs this place, anyway?' the answer is YOU. While our eternal gratitude goes out to Geocities, without whom this wonderful site would not be possible (blatant plug), it's the people who access Snicker that make it great. We need everyone's funny stuff, jokes, advice, pictures, anything good that you can give us. Even if you don't have anything to contribute, we insist that you email us anyway so we can get some idea of how many people come here. Never trust the counter!, somebody says.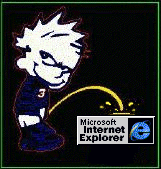 You are bonehead #
to access this site since March 1997.



---
Special feature: Name This Page
Take part in our Name This Page contest! You did know that Snicker is not our permanent name, right? We're Snicker now because, well, when our joke-writing guy saw Graphics Guy's animated Calvin he started to snicker. This was about the time the Geocities server asked us for a username. "Shut up, Snicker, I'm trying to think!", said Web Guy. And so our username, Snicker_page, was born.
We challenge you to think up a new name. Email us with a name and if yours is the one we select, you get a prize! And if you're too lazy to hit the Mail button on your browser, just fill in the form below and hit 'Send' to move it on its merry way. (We aren't exactly sure what the prize is yet, but there is one. It could be our Qbasic game library, a Domino's Pizza, or our extensive collection of punk and metal MIDIs. We really don't know.)